Paul Silas is known to most of the basketball world as a Creighton legend, two-time NBA All-Star and a three-time NBA champion with the Boston Celtics. He later became a head coach at the NBA level, including with the Cleveland Cavaliers where he became LeBron James' first pro coach in 2003.
Silas grew up in Prescott, Arkansas, and on Thursday evening I'm going to helm a panel that includes long-time sportswriter Wadie Moore and his Silas' junior high coach Joe Hale. Hale, still fit and hale at age 92, is something of a walking encyclopedia when it comes to black sports in Arknasas before integration. He is among the living legends like Eddie Boone, Johnny Greenwood and Oliver Elders (who has told me he will also attend) who can provide the current generation (and future generations) with knowledge of a largely unrecorded history.
Here's more about all three of us and the location, Pyramid Art, Books and Custom Framing.
Arkansas Author Connection
Thursday, November 30, 2017
6:00 pm
Evin Demirel
author of
African-American Athletes in Arkansas: Muhammad Ali's Tour, Black Razorbacks
& Other Forgotten Stories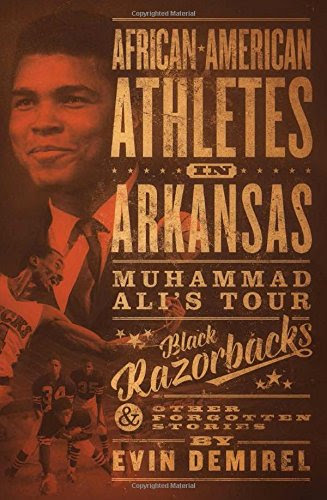 (Paperback) $24.99
About Evin Demirel
A former Latin teacher and Democrat-Gazette reporter, Demirel writes often about the intersection of sports, race relations and regional history. In September, he 
spoke at the Clinton School of Public Service
 about sports and the public history gap between African-American and white communities statewide. A father of one, he graduated from Little Rock Central High School and the University of Arkansas.
Wadie Moore, Jr.
Moore, Jr., a 1968 graduate of Horace Mann High School, broke ground as the 
first black African-American sportswriter
 at the Arkansas Gazette that same year. He attended Philander Smith College and stayed with the Gazette through 1991. After briefly worked as the editor of the Pine Bluff Commercial, Moore went to the Arkansas Activities Association, where he retired as assistant executive director in 2017. For years he tried to track down records of all-black high schools pre-integration and summon statewide interest in chronicling their heritage.
Joe Hale
In 1945, Hale starred as a shooting guard on the Oak Grove High in the Prescott area. His '45 team played in the 
National Basketball Tournament for Black Schools
 in Nashville, Tenn. He then played basketball for AM&N before coaching basketball and football at the McRae High School. Among his players was Paul Silas, who would go on to become a two-time NBA All-Star and the first professional head coach of LeBron James. Hale, who graduated with a bachelor's degree from AM&N and a master's degree from the University of Arkansas, became principal of McRae High School in 1958. In later decades, he also served as principal of Lee High School in Marianna and assistant principal at Little Rock Central High.
"Evin Demirel is one of my favorite young sportswriters… He has written for a lot of publications and websites, The New York Times, Deadspin and this newspaper among them. A graceful writer who brings seriousness and an uncommon alertness to history and culture to his work, Demirel's chief concern is bringing fresh, under-reported stories to light. In the age of the hot take, where self-branding and marketing seem fundamental to the pursuit of any media career, Demirel stands out for his commitment to honest journalism.
So it's not difficult to recommend his new book… It is, as advertised, a deeply compelling survey of the heretofore neglected history of black athletes in 20th-century Arkansas."
"Going beyond the title, this book stresses the relationships between Arkansan African Americans and whites alike. Yes, the hook is sports, but the subject matter is wide-ranging, weaving together regional and national historical strands of education, religion, politics, economics and civil rights. I recommend it as a resource for all Arkansas high school (and even middle school) administrators. They should seriously look at it as a learning tool for their students."
– Dr. John L Colbert, Associate Superintendent for Support Services, Fayetteville Public Schools
"Really well written, informative stories about the Arkansas greats and people who paved the way for my dad, Almer Lee, Martin Terry and others…. It will speak to athletes, coaches and history lovers across the state and region, and should be read by Razorback fans of all backgrounds. But its reach should be wider-it's national history as well."
-Fayetteville native Ronnie Brewer, two-time All-SEC Razorbacks basketball player