In 29 years as NBA commissioner, David Stern has led his league to unprecedented heights by opening its doors to nearly every corner of the world.
He expects its next generation of stars, some of whom are playing on their franchises' summer teams, to continue fueling growth through diversity and global expansion. A quick scan at the statistical leaders for the NBA Summer League, which wrapped Monday in Las Vegas, seems to indicate everything is on track.
There are foreigners like Candian Kelly Olynyk, Lithuanian Jonas Valanciunus and German Dennis Shroeder. There is an American, Jeremy Tyler, who played abroad after skipping college altogether.  Other Americans, like C.J. McCollum of Lehigh University, starred at the mid-major collegiate level. This fall, McCollum will start his career in Portland beside NBA Rookie of the Year Damian Lillard, who played at Weber State University. Mid major, high major, when it comes to predicting future NBA stars, the difference seems increasingly minor.
But the path has not widened for all.
The NBA player who hails from a small college has all but disappeared. In past decades, the NAIA and schools from what is now NCAA Division II and III produced All-Stars like Earl Monroe, Dick Barnett, Jerry Sloan, Walt Frazier, Nate Archibald and Willis Reed. Later, Terry Porter, Dennis Rodman and Scottie Pippen came from these ranks.
But in the 21st century, the well has gone dry. There has not been a player from DII, DIII or NAIA to make a substantial splash in the NBA since Flip Murray, Devean George and Ben Wallace nearly a decade ago. As those players have retired, it appears nobody will step in to carry the small college banner into the next era.
Indeed, small college alumni are having a harder time than ever even making an NBA squad: of the ten such players in Las Vegas, only two off them – Glen Dandridge of the now-defunct Lambuth University and Othyus Jeffers of Robert Morris University – averaged more than 10 minutes a game. Jeffers led the pack with 8.3 points a game for Minnesota but none of these ten players – including John Stockton's son Michael Stockton – appear to be a favorite to make a final roster.
How did this happen?
An influx of foreign players in the last 30 years is a big reason, says John McCarthy, director of the NAIA's Division I Men's Basketball National Championship. Perhaps the most important reason, though, is the NCAA Tournament has become enormously profitable in recent years and more and more small colleges have elbowed into Division I to get a piece of the pie. Many of the historically black colleges which produced Reed, Monroe, Frazier et al have migrated to the lower fringes of Division I – which now swells at about 340 program and more than 5,000 players.
The elevated cachet of Division I, due to boosted financial dividends and exponentially increased media attention, have at the same time downgraded the appeal of the lower divisions and National Association of Intercollegiate Athletics. More high school and summer league coaches believe the only route to the pros is Division I, and they pass those convictions to their players.
Which means, recruits often choose to play in Division I even when it's not in their best interests. "I think that there are times where a Division II program may actually be a better fit for a player," wrote McCarthy, who runs this small college basketball blog. "A good Division II program may be a better fit for a player (academically, class-size, geographically, need for his position, coach, etc.), but a player will often choose the Division I program because of the label." The player often finds the level play at the top DII schools is higher than than the lower tier DI program he might have left.
As a tribute to the NBA's small college legacy  – which unfortunately seems to be shrinking – below are the Top 16 small college NBA/ABA players of all time. I've limited the list to only players who played at schools that are still DII, DIII or NAIA today. That's why you won't see greats like Jerry Sloan, Dick Barnett and Maurice Stokes, Willis Reed and Bob Love, whose programs have since joined DI.
Since I'm ranking players based on performances during college and pro careers, you also won't find scoring phenomenon Bevo Francis, who averaged more than 48 points a game for Rio Grande College in the 1950s. He chose not to play in the NBA.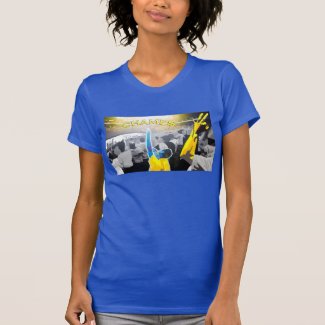 Golden State Celebration Tshirts
by
The_Sports_Seer
Check out Golden T-Shirts online at
zazzle
16. Devean George
College: Augsburg (Minneapolis, Minn.)
NBA Draft: Round 1/Pick 23rd by Los Angeles Lakers
NBA Playing Career: 1999-2010
All-Star Appearances: 0
Career High Averages (for one season)
Points per game: 7.4
Rebounds per game: 4.0
Assists per game: 1.4
Steals per game: 1.0
Blocks per game: 0.5
43.2 % FG
39.0 % 3PT
George was a dominant scorer in Division III, averaging 27.5 ppg as a senior, but will forever be remembered as a sort-of-vital glue guy bench player during the Lakers' 2000-02 threepeat. His career apex came in 2003-04, when he started 48 games and played nearly 24 minutes a game.